Losing Respect for Del. Eleanor Holmes Norton
Even though the old Stephen Colbert program was a parody I enjoyed watching it… sometimes parody still exposed hidden truths and sometimes you just have to be able to laugh at yourself or your allies when stupid things happen. During my time in Washington and watching The Colbert Report I managed to develop a grudging level of respect for Delegate Eleanor Holmes Norton (D-D.C.).
While I don't agree with Del. Holmes Norton on just about any issue, I always respected her efforts to get voting rights for the District of Columbia and their efforts at home rule. While I understand and agree that D.C. is a federal district and unless there's a change in that designation they shouldn't be extended – her passion and dedication to that mission was always something I greatly respected.
So this video from the House Committee on Oversight and Government Reform really bothered me. During a hearing investigating potential campaign finance law abuses by President Obama's administration, Del. Holmes Norton had this to say about government transparency: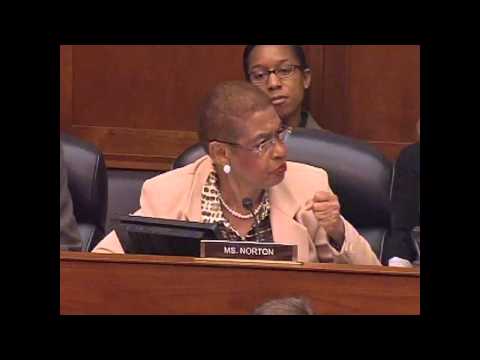 While I understand that in these hearings there is usually a very highly partisan posture involved, her comments are ridiculous on their face. Of course we have a right to know what is going on in our government. They have caused me to lose respect for Del. Holmes Norton because she has fought so long and so hard for her constituents to have a vote in Congress but she has no respect for their right to know what is going on with their government. What good is having a voice when you have no idea what is going on?
If you'd like to learn more about the context of Del. Holmes Norton's comments, read Pam Key's piece on Breitbart about the committee hearing. The lesson I learned that while it is easy to admire a political figure's passion, even if you disagree with them, it's important to remember that their passion is often rooted in their own self-interest. Del. Holmes Norton doesn't want to empower her constituents, she just wants to give them something they want or keep fighting for it so she can maintain her position.